Indian Distressed Debt Market
Published on 24 Aug, 2018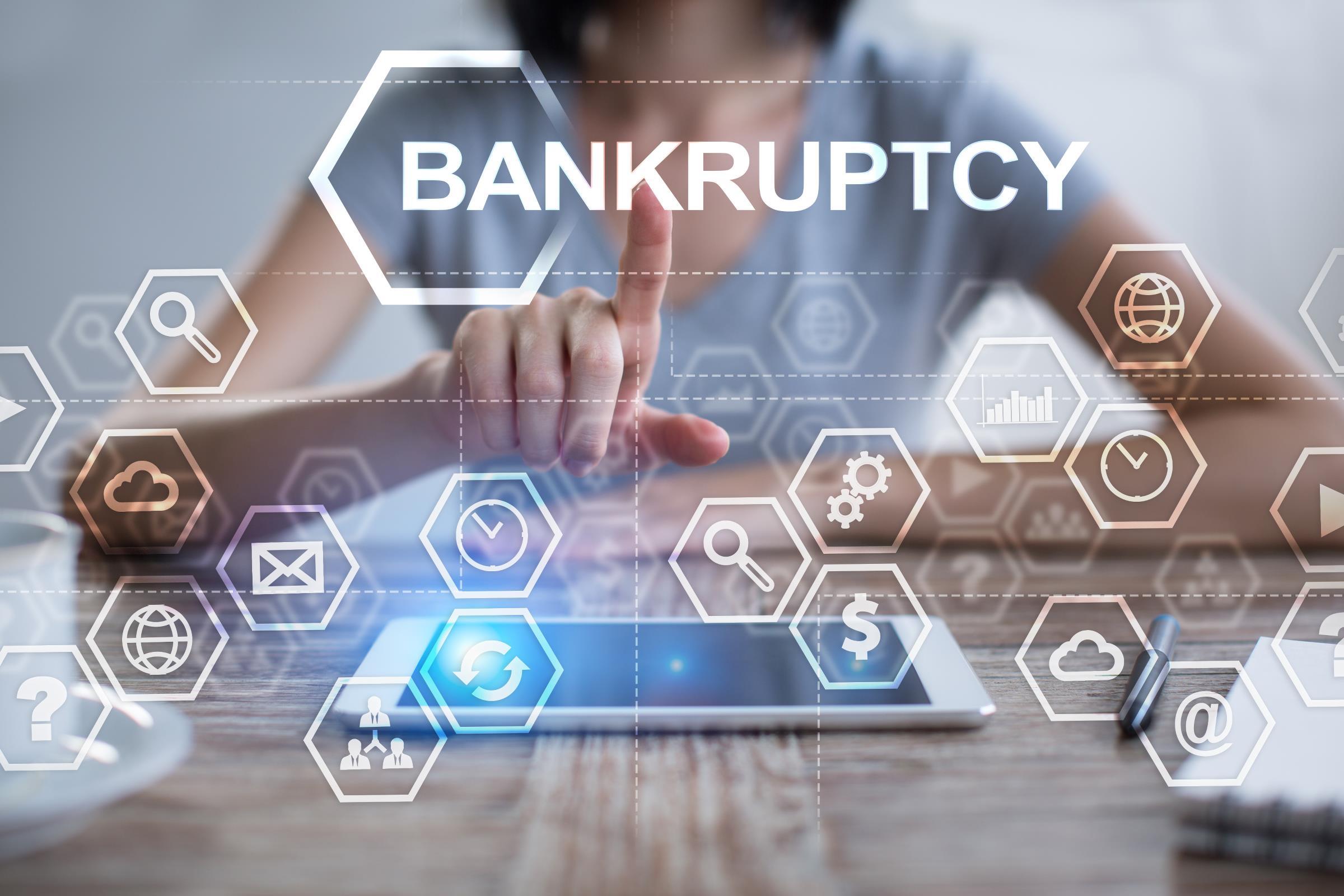 State of NPAs in the Indian Banking system and reasons for failure for previous RBI mechanisms to resolve NPAs; purpose for incorporation of IBC and procedure under IBC; Evolution of IBC and the way forward; Participant in Indian Distressed Debt Market
State of NPA in Indian Banking System
Prior to the financial crisis in 2008, companies in India undertook major projects in capital-intensive sectors anticipating a huge spike in the economy. India's GDP expanded at a CAGR of 8.8% during 2002–07. Even banks responded to the situation with significant lending activities, but without sufficient evaluation of risk and return. This resulted in credit growth of 26.8% during the said period.
The growth equation went wrong when the financial crisis took place in 2008. Further systemic issues such as spectrum and coal mining scams led to policy paralysis, resulting in stalling of projects (especially related to power and highways). This was when NPA levels in the Indian banking system started heading north. The banks prolonged recognition of stress by ever-greening loans, misusing clauses in the existing resolution mechanism introduced by RBI (such as CDR and SDR). However, this misuse was noticed as RBI tightened norms over time.
The situation worsened as stressed assets and NPA levels continued to rise. In March 2018, gross NPAs in the Indian banking sector stood at INR 10,360 billion, with industry loans accounting for the highest share, followed by services and agriculture. Public sector banks had higher NPA levels at 15.6% of total advances compared to 4.0% for gross non-performing assets (GNPAs) in the case of private banks.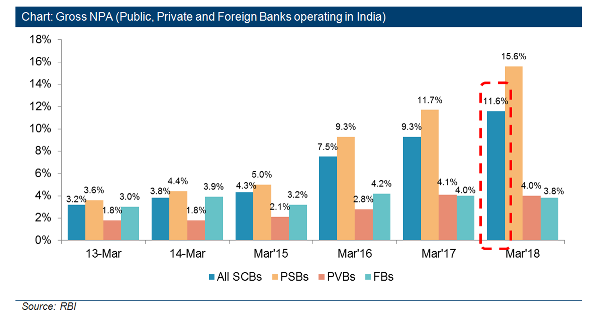 Over the years, RBI and the Government of India took several steps to bring reforms at the legal, financial, and policy reforms. RBI introduced several schemes and frameworks to curtail rising levels of NPAs in the system. However, each reform was fraught with limitations.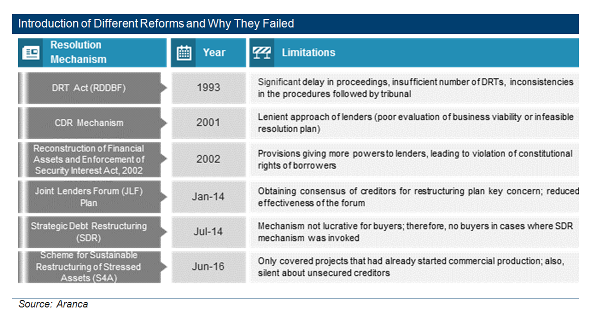 The restructuring reforms resulted in very few cases of successful recovery in case of large defaults that formed a major chunk of NPAs in the system. Consequently, NPA levels rose significantly.
Due to the failure of the schemes mentioned above, in 2016, the government introduced the Insolvency and Bankruptcy Code (IBC) to facilitate the restructuring and preservation of distressed yet viable businesses and orderly resolution of distressed, non-viable businesses. The Act was aimed at recovering debt on time.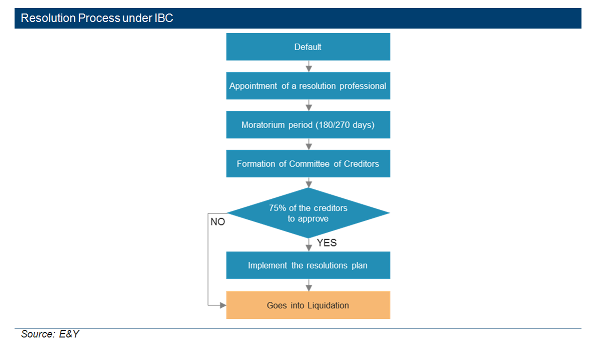 Revised Framework
After the IBC's introduction, RBI decided to substitute existing guidelines with a harmonized and simplified generic framework for the resolution of toxic assets. According to an RBI circular dated February 12, 2018, the bank scrapped loan restructuring programs such as CDR, SDR, S4A, and JLF, and made a resolution that the defaults have to be resolved within a given time frame, with IBC becoming the main tool to deal with defaulters. Furthermore, RBI emphasized more on early identification of stress in the books of banks through strict monitoring and introduction of prudent norms in reporting standards. RBI has also tightened conditions for the implementation of a resolution plan to make it more effective.
With the recent changes to IBC, the law is expected to strengthen the legal system while increasing the depth of the credit market and providing greater access to credit for firms and individuals.
Increase depth of bond market: Historically, banks have been the main supplier of credit in the Indian economy. The recently introduced IBC would provide predictability, transparency, and an efficient framework for debt recovery, which would enhance the investor base and confidence. Conversely, companies (especially infrastructure companies) would be able to raise long-term debt at a lower cost from the bond market.
Enable lenders to accurately gauge risk: A well-defined absolute priority rule under IBC would enable lenders to gauge the Loss Given Default (LGD) under prospective loan proposals. Further establishment of information utility would reduce information asymmetries between borrowers and lenders.
Increase funding in form of unsecured loans: Unlike companies in developed countries, investment-grade companies are not able to raise unsecured loan in India. Due to the lack of an efficient system for enforcing debt claims, lenders demand security and personal guarantee of promoters to reduce the risk of non-performance. IBC provides efficient, transparent, and reliable methods for recovering debt, which enable lenders to seize and sell immovable and movable assets and recover unsecured credit claims.
Evolution of IBC and Way Forward
The implementation of a new law in India is always challenging. Historically, unscrupulous borrowers have been successful in exploiting loopholes in debt recovery laws. Both Securitisation and Reconstruction of Financial Assets and Enforcement of Securities Interest Act (SARFAESI) and Debt Recovery Tribunal (DRT) laws have been ineffective in dealing with bad loans, especially loans turning bad due to willful defaults. The integrity of the insolvency system is essential for its success. The core purpose of IBC is to provide an efficient framework to resolve unviable business while safeguarding the interests of various stakeholders. However, recently, some of the following events diluted the core purpose of IBC:

Unequitable balancing of interests of all stakeholders: While IBC can only set the base of the standards of fair practice, it cannot address all questions of conflict of interest among various stakeholders in the bankruptcy proceeding. Hence, key participants, resolution professionals and financial creditors, have the moral duty to balance the interest of other stakeholders. According to IBC, resolution professionals administrate the bankruptcy proceedings and disseminate information to all stakeholders fairly and financial creditors finalize the resolution plan. This leaves other stakeholders – employees, trade creditors, and existing shareholders – in a vulnerable position. Recently, existing shareholders of some distressed companies challenged the resolution plan passed by financial creditors in NCLT. Hence, although IBC has given the senior claimant position to financial creditors in the absolute priority rule, financial creditors could agree to smaller deviations from priority rights to pass benefits to the junior claimant and equity holders to avoid lengthy bankruptcy proceedings and litigations (as it happened in the Monnet Ispat case).
Extension of timeline beyond 270 days: In some cases such as Essar Steel and Adhunik Metaliks, NCLT benches had granted an extension of the timeline beyond 270 days to finalize the resolution plan, which diluted the core purpose of IBC to facilitate debt recovery in a time-bound manner. It has also set a bad precedent for future cases.
Any law will face teething troubles in its implementation, especially when it involves a lot of subjectivity. There will always be some grey areas in any laws, but it is the responsibility of the judiciary, regulators, government, and participants to successfully implement the law without diluting its core purpose. All shareholders should work together to prevent IBC from being abused by unscrupulous borrowers to stall decision making.
To preserve the integrity and core purpose of IBC, the Government of India is proactive in reviewing and amending IBC (as and when required). Recently, the government made some amendments to address legal loopholes and make insolvency procedures and systems more effective.
Non-applicability of moratorium period on guarantors: Earlier, unscrupulous guarantors of corporate debtors were exploiting the benefit of the moratorium applied under IBC, when an insolvency petition was admitted against a distressed company. However, the legislature has closed the loophole by specifically stating that the moratorium would be not applicable on guarantors of the corporate debtor.
Lower voting threshold: To encourage speedy resolution rather than liquidation, the Government of India reduced the voting threshold to 66% from 75% for all major decision making such as the approval of the resolution plan and extension of timelines. Furthermore, the voting threshold has been set at 51% for routine decisions to facilitate the functioning of a distress business as a going concern.
Permitted pure-play financial institutions to bid for distressed assets: To expand the eligible pool of bidders and enable better pricing, the government has enabled pure-play financial institutions such as Asset Reconstruction Companies (ARCs), alternative investment funds, foreign institutional investors, and venture capital funds, which may be related to defaulted corporate debtors, to bid for distressed assets in NCLT.
Sale as a going concern: After NCLT benches passed an order for liquidation of a company as a going concern, regulations were amended to allow for liquidation by sale as a going concern. This would primarily benefit employees and trade creditors who are mostly unsecured claimants and occupy a lower position in the overall debt recovery waterfall mechanism.
Given that the jurisprudence around IBC has been evolving since its implementation in December 2016, the government is expected to continue to amend IBC to safeguard the core purpose of IBC whenever required.
Participant in Indian Distressed Debt Market
Historically, due to the lack of an efficient system to recover debt and resolve unviable businesses, ARCs were the only buyers of distressed loans in India. ARCs were created under the SARFAESI Act 2002 to unlock value from the stressed loans of banks. These ARCs were set up as private entities, mostly with the support of banks. As of November 2017, there were 24 operating ARCs.
The actual performance of ARCs has not been satisfactory. ACRs have performed poorly in the area of rehabilitating and turning around distressed but potentially viable companies. Earlier, ARCs were able to earn 20–30% IRR just by charging a 1.5% management fee on outstanding security receipts. Consequently, management fees played a key role in determining purchase considerations of distressed loans.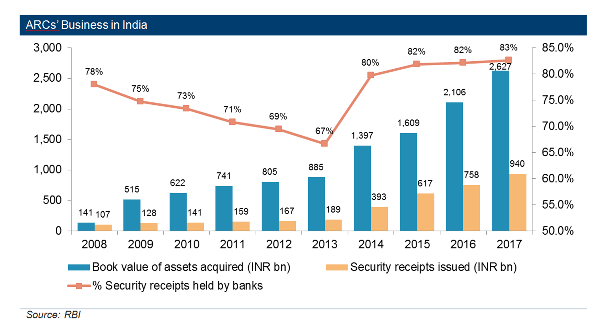 The implementation of IBC gave more power to creditors, which increased the number of participants in Indian distressed markets. Recently, many distressed and special situation investments funds such as JC Flowers, KKR and Co., and SSG Capital Management launched their distressed investing desks in India. IBC too showed a way to corporations to acquire distressed companies in NCLT.
To further increase efficiency and depth of the distressed debt market, the Government of India, along with RBI, undertook the following initiatives:
Increased cash investment requirement to 15% from 5% (by ARCs): To improve price discovery, RBI raised the ARC cash investment requirement to 15% from 5%. RBI also linked management fees to NAV specified by the rating agency rather than the outstanding value. Consequently, ARCs are gradually moving toward fund-based models, with a focus on recoveries and realistic pricing.
Allow loan trading: To enhance the investor base, RBI enabled lenders to sell stressed loans to other banks/NBFCs/FIs.
Foreign investment in Indian ARCs: The government increased the FDI/FII investment ceiling for Indian ARCs to 100% in May 2016. With foreign capital flowing into the distressed market, ARCs may be willing to take more risks and bid for bigger assets.
Case Study: Bhushan Steel Limited (Resolution of Stressed Asset Under IBC)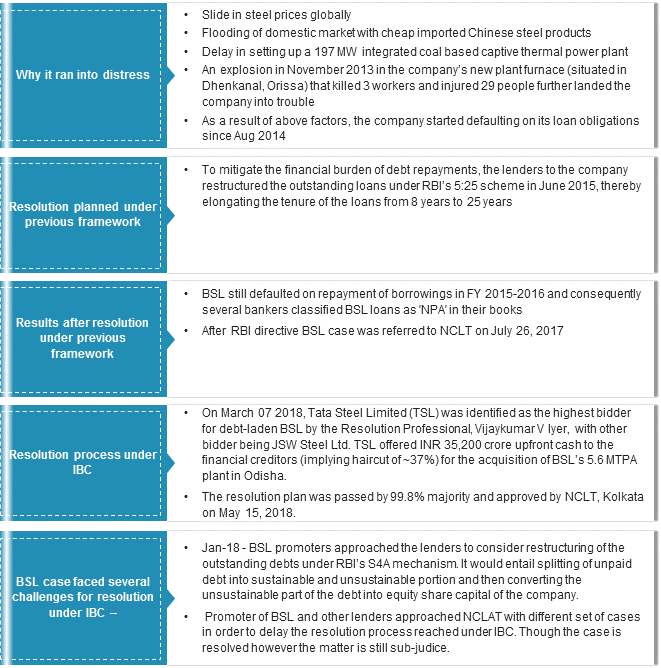 ---
Speak your Mind