Make Confident Sourcing Decisions

170+
Global Clients
Trust us with their most critical questions on sourcing.

1750+
Spend Items
Researched, covering 90% of global spend on sourcing.
25K+
Research Requests
Delivered, spanning a range of sourcing related questions.

60+
Countries
Where we have executed sourcing related projects.

Engage with Specialists
Your project will always be executed by analysts with deep knowledge of your spend category.

Global, Multilingual Footprint
Research centres in India and China, supported by on-ground analysts in 30+ countries.
Emphasis on Insights, Always
We combine knowledge, desk research and expert interviews to unearth facts that matter.
Procurement Research Solutions Portfolio
Sourcing professionals leverage our expertise across multiple business priorities.
---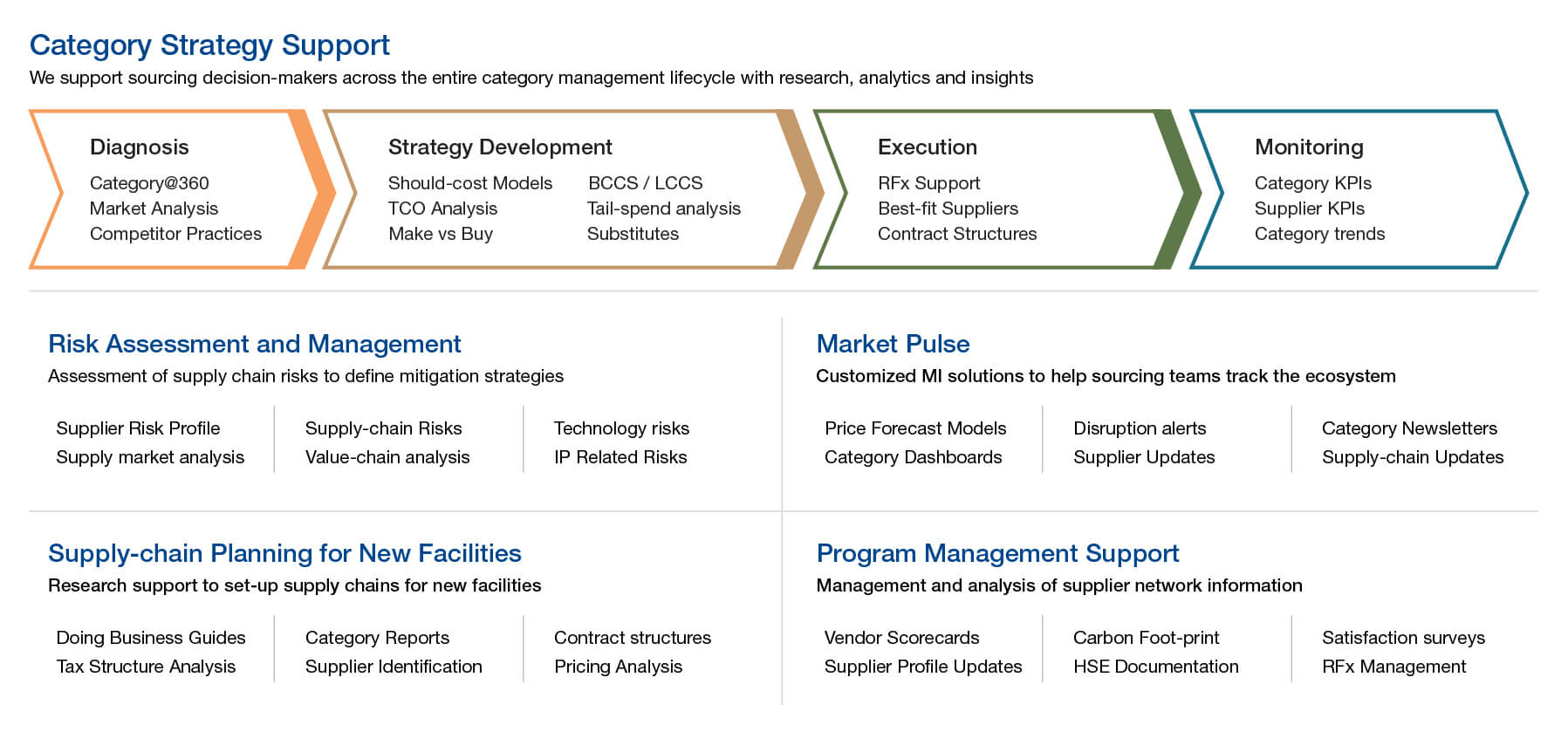 Frameworks and Case Studies
Learn more about our approach to solving critical sourcing questions
---
Engagement Models
Choice of flexible engagement models designed to suit your specific requirement and budget.
---

Bespoke Projects
For one-off research requirements,
be it a large or small project.

FTE Model
Dedicated team of one or more category specialists aligned to your internal team.

Block-of-hours Model
Shared pool of category specialists who can be leveraged by your entire sourcing team.
Category Experience
We have researched over 1750 items spanning 50+ spend categories.
---
APIs
Acitretin, Alosetron, Bicalutamide, Epoprostenol, Exenatide Letrozole
Auto Components
Clutch components, Brake pads, motors & drives, sensors, gauges, seats
Basic Chemicals
Ethylene, Benzene, Hydrogen peroxide, Acids - Sulphuric, Phosphoric, Nitric
Biologics
Chromatography, Resins & Filters, Protein Purification Reagents
Bulk Packaging
Crates, Drums, Wooden Pallets, Trays, Bags
Clinical Research
Clinical Trials, R & D Informatics Chemistry Research, Drug Safety
Construction Materials
Cement, Lime, Aggregates, concrete, tiles, switches
Contract Manufacturing
API Sourcing, Contract Formulation (Small & Large molecule), Drug Delivery
Crops & Grains
Corn, Sugar, Cotton, Guar Gum, Natural Rubber, Wheat, Oilseeds
Digital Marketing
Creative Advertising, Marketing Communication
Drug Delivery Devices
Inhalers, Safety Syringes, Auto Injectors, Pen Injectors, Syringes
Energy & Derivatives
Gasoline, Diesel, Heating oil, Kerosene, Residual Oil, Fuel Oil
Engg. & Construction
Architectural & Engineering Services, Construction Services (EPC& EPCM)
F&B Ingredients
Eggs, Dried Vegetables, Cocoa & Coffee, Milk & Derivatives,Concentrates
Facilities Management
Mechanical and electrical maintenance, Catering, Security, HVAC
Ferrous Metals
Iron Ore, Carbon Steel, Mild Steel, Stainless Steel, HRC/CRC
Fibers
Cotton, Jute, Coir, Bagasse, Kenaf, Wheat Straw, Corn Straw
Fine Chemicals
Fluoro-aromatic compounds, Phenols, Phenyl derivatives, feed additives
Flexible Packaging
Aluminum Foils, Labels & Printed Components, Films & Laminates
HR Services
Recruitment and staffing, compensation, Training & Development
Industrial Durables
Plastic Based Molded Parts, Casting & Forgings, Composite Structures
Industrial Gases
Ammonia, Nitrogen, Argon, Hydrogen, Acetylene, Oxygen, Carbon-dioxide
IT Equipment & Services
Hardware Purchase and Maintenance, Software Licensing & Maintenance
Lab Supplies
General Lab Equipment & Supplies, Chromatography, Filters, Spirometers
Logistics
Air/Ocean/Road/Rail Freight, Intermodal & LTL, 3PL/4PL, Freight Forwarding
Mass Communication
Media Buying, TV/Radio/Newspaper, Campaign Management
Mechanical Equipment
Pumps, Motors, Turbines, Control Valves, Conveyer belt, pipes & fittings
Medical Equipment
MRIs, X ray Scanners, CT Scanners, Ultrasound Imaging Systems, PET
Medical Supplies
Suction Catheters, Surgical Mesh, Surgical Scissors, Blades and Forceps
Mining
Mobile Equipment, Explosives, Capital Equipment, Refractories, OTR Tires
Mining Services
Equipment Maintenance, Blasting services, Drilling Services
Minor Metals & Minerals
Magnesium, Manganese, Tantalum, Titanium, Cobalt, Lithium, Gypsum
MRO
Industrial Supplies, Bearings & Power Transmissions
MRO Services
MRO Outsourcing, Overhaul Services, Motor Repair Services
Non Ferrous Metals
Copper, Aluminum, Nickel, Tin, Zinc, Lead
Non Renewable Energy
Crude oil, Natural Gas, Shale Gas, Coal, nuclear fuels
Oil & Gas
Capital Equipment, Oilfield Consumables, Oilfield Chemicals
Oil & Gas Services
Oilfield Services, Drilling & exploration services, Equipment Maintenance
Paper Packaging
GC2, GD2, OCC, Carton, Container Box & Boards, Carton board, Fluff Pulp
Petrochemicals
PET, PE, PP, PVC, PS, SBR, Benzene, Butadiene, Ethylene, LDPE
Precious Metals
Gold, Silver, Platinum, Palladium, Rhodium, Ruthenium, Osmium, iridium
Professional Services
Audit, Accounting & tax, Legal Services, Management Consulting
Real Estate Services
Property Management, Engineering, Building Lease & Maintenance
Renewable Energy
Wind energy, Solar energy, biomass, geothermal, tidal
Rigid Packaging
Glass & Plastic Bottles, Aerosol & Metal Cans, Beverage Cans, Tubes & Jars
Speciality Chemicals
Adhesives, Elastomers, Food additives and colorings, lubricants, surfactants
Surgical Components
Surgical Instruments, Joint Prosthesis, Cast Components, Orthopaedic
Targeted Audience
Print & Fulfillment, Digital Marketing, Contact Centers, Promotional Items
Telecom. Eqpt. & Services
Police and fire communications, Land and Mobile Telecommunication
Textiles
Yarn, Chemical treatment, Colors & pigments, Fabric, Garments
Travel Services
Hotel & Accommodation, Air Travel Meals, Car Hire / Rental, Taxi
Vegetable Fats & Oils
Palm Oil, Soy Bean Oil, Coconut Oil, Essential Oils, Animal Fats
Warehousing & Distribution
Distribution Channels, Cold-Chain Management, In-Market Distribution
Waste Management
Solid Waste Management, Effluent Discharge & Remediation
Global Experience - No Country is Beyond Our Reach
We have analyzed demand-supply dynamics in over 60 countries for our global clients
---
Looking to improve your sourcing decisions with category-specific intelligence?
© , Aranca. All rights reserved.
United States | United Kingdom | China | India | Dubai | KSA | Japan